Train
Car/Motor Bike
Airplane
Express Bus
Train
JR Niigata Station ⇒(JR Echigo Line 19 min 240 yen)⇒ JR Niigata University Station ⇒(Walk 10 min)⇒ ORIORI
Car/Motor Bike Free Parking (Reservation required)
21 min / Niigata Nishi IC Kan-etsu Expressway
19 min / Kurosaki Smart PA IC Kan-etsu Expressway
28 min / Makikata Higashi IC Kan-etsu Expressway
Airplane
Niigata Airport ⇒(Airport limousine bus 25 min 420 yen)⇒ JR Niigata Station⇒(JR Echigo LIne 19 min 240 yen)⇒ JR Nigata Daigaku Mae Station (Niigata University station) ⇒(Walk 10 min)⇒ ORIORI
Express Bus
【Bus from Tokyo1】Niigata Kotsu Bus / to Niigata Station
【Bus from Tokyo2】WILLER/ to Niigata Station or Niigata University 
【Bus from Nagano】Nagaden Bus / to Niigata Station
【From Niigata Station to ORIORI】JR Niigata Station ⇒(JR Echigo Line 19 min 240 yen)⇒ JR Niigata Daigaku Mae Station ⇒(Walk 10 min)⇒ ORIORI
◆Are you arriving at Niigata University in the early morning? 
If you want to leave your luggage in the early morning, please let us know before 10 p.m. on the day before.
If you want to sleep and use shower from the early morning, please book your room on the day before at between 9 p.m. and 10 p.m. . Only when we have availability the night before, we can accept it.  Extra fee is 2000 yen.   Call us 090-1809-3793
Niigata University Station → ORIORI
(Car:  It is useful from 6)

Get off the train at "Niigata University Station" , just after get out the exit, go down the stairs or elevator on your left side.

2.  Enter the tunnel, go up the stairs.

3. After you get to the outside, turn left, turn right, and go straight.

4.  Navigation and the sign shows you to turn right, but this time, you can go short cut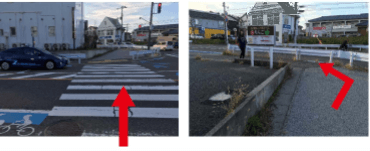 5. Cross the left cross road, turn right, and turn left.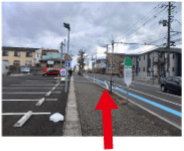 6. Go straight with seeing Lawson on your left

7. Cross the crosswalk in front of brown building "ダイアパレス新大前", then you can see our cat sign on the poll, go into the apartment area. You can see the green sign "サンリツ計測" a bit far away.

8. Just go straight, never mind the crank! Still go straight.

9. You can see the bush, green garbage can in front of you, parking space on your right side, then turn left!